As musicians and fans alike spend more time in self isolation, many artists have been continuing to release music. Some artists, like HAIM, are releasing pre-recorded music in preparation for upcoming albums. Other artists, like Still Woozy, have been mixing music from the comfort of their homes to cure their boredom. Whether it's a surprise remix from hip-hop powerhouses Megan Thee Stallion featuring Beyoncé, or Doja Cat featuring Nicki Minaj. Here are all the best quarantine music releases to catch up on:
HAIM
Sister trio HAIM, the alternative-pop band, originally announced an April 24, 2020 release date for their upcoming third studio album, Women In Music Pt. III, after dropping The Steps EP on March 3. This EP is comprised of four singles which the band released individually, starting in summer 2019. With the growing threat of the Coronavirus pandemic, the band ultimately made the decision to push back their album release date to June 26, 2020. Luckily for fans, some good news also came with this bad news, the release of the single, "I Know Alone" on April 29, 2020. The single was accompanied by a music video of the sisters dancing from a social distance from one another. This newest single is more on the techno/experimental alternative side in comparison to what some HAIM listener's may expect, but with a solid EP under their belt, it seems that this upcoming album will not disappoint.
Charli XCX
Charli XCX's first quarantine single "forever" a grungy pop love song, came out on April 9. Her second single, "claws", a synthy but super catchy pop love song was released on April 23, 2020. The singer-songwriter has been working on releasing music from quarantine for an upcoming album, which she tweeted about. The album's working title and release date are how i'm feeling now, coming out on May 15, 2020. Charli also recruited her friends, three fellow multidisciplinary artists/musicians, Caroline Polacheck, Seth Bogart, and Regards Coupables to design the cover art for her first single.
Charli has been sharing at-home photoshoots with fans via Twitter, and having artists put their own touch on the photos, which Charli then uses for album and single cover art. Overall, Charli XCX has been steadily releasing new music; exciting her fans via social media by including them in her process of making an album at home from scratch.
Megan Thee Stallion ft. Beyoncé
In a very Beyoncé-esque way, this single came about with absolutely no warning to fans. Beyoncé joined her fellow Houston rapper, Megan Thee Stallion, for a surprise remix to the song that's taken Tik Tok by storm. The "Savage Remix [ft. Beyonce]" was released on April 29, 2020, and includes all new verses from Megan. Fans were hoping for a collaboration since photos of the artists together at a New Year's Eve party surfaced at the beginning of 2020, and this remix definitely surpasses expectations.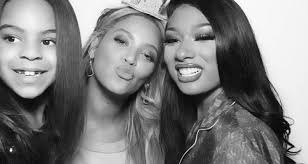 Doja Cat ft. Nicki Minaj
Although no one knows how long a collaboration has been in the works for, the Nicki Minaj remix of Doja Cat's equally Tik Tok viral song, "Say So," wasn't announced until the same day as "Savage Remix [ft. Beyoncé]," which actually came out hours prior at midnight. While I'm personally a fan of all four icons, it was disappointing that the "Say So [Remix ft. Nicki Minaj]" recycled the same verses from Doja Cat's original version of the song. Nonetheless, fans were so excited to hear the Barb queen, Nicki Minaj, rap alongside Doja Cat.
Still Woozy
Sven Gamsky, the talent behind one man band, Still Woozy, released his new single, "Window", on April 17, 2020. Still Woozy was supposed to be touring right now, but instead has been spending quarantine making music from his personal recording studio. "Window" combines an acoustic sound with a funky beat, using unique sound effects, like that of a creaking floor, as part of the beat. Still Woozy also recently covered fellow one-man band, Tame Impala's song, "The Less I Know The Better" on his YouTube channel.
The Strokes
Every indie music listener's favorite quintessential alternative rock band, The Strokes, finally released their sixth and newest album, The New Abnormal, on April 10, 2020. Marking this as their first full-length album since their 2013, Comedown Machine. The band, headed by lead singer and primary songwriter, Julian Casablancas, released three singles in preparation for this album, starting in February of this year. The album's sound as a whole is nothing super brand new or groundbreaking for the indie rock band. With that being said, the album is cohesive and won't disappoint true fans of The Strokes. Personal favorite songs include "The Adults Are Talking," "Bad Decisions," and "Eternal Summer."
Kali Uchis
R&B music singer-songwriter, Kali Uchis, came out with her newest EP, To Feel Alive, on April 24, 2020. Check out this awesome review, where my fellow Red Roll writer, Maddy, goes in-depth about each song on the four-track EP as well as the motifs of the EP.
Phoebe Bridgers
Phoebe Bridgers, indie/folk singer-songwriter, has released two singles this spring in preparation for her newest album, Punisher, which comes out on June 19, 2020. Her first single of this year, "Garden Song," was released at the end of February. It is a slower, acoustic song, in which Bridger's lyrics beautifully reflect on her past and future. Her second single, "Kyoto", was released on April 9, 2020. This single is more uplifting than the last, featuring drums and horns, rather than the sounds of just an acoustic guitar. In this single, Bridgers discusses the cycle of her desire to travel when she is home, and her desire to be at home while she is traveling on tour. If you're a fan of indie bands like Bright Eyes or The Head and The Heart, or alternative female singer-songwriters like Soccer Mommy or Lana Del Rey, you'll definitely want to keep your eye out for Phoebe Bridgers' newest album.
Kacey Musgraves
As a special Earth Day treat, everyone's favorite country-pop princess, Kacey Musgraves, surprised fans with "Oh What A World 2.0 – Earth Day Edition." This song is a remix of Musgraves' song "Oh What A World" from her Grammy-winning 2018 album, Golden Hour. This version is an almost-tropical inspired remix, with a slightly different beat, featuring bongos. It's definitely a cool and unique remix for a song by primarily country-based singer-songwriter.
Yellow Days
Another one man band, George Van Den Broek of Yellow Days, just came out with the new single, "Treat You Right," on May 1, 2020. The indie R&B artist has a similar sound to those of Cosmo Pyke, HOMESHAKE, and Banes World. The UK-based artist hasn't released a full length album since his 2017 Is Everything Okay In Your World?, but releases individual singles quite frequently, so we won't be surprised to hear more Yellow Days music as time in quarantine progresses.